Although it may be an unlikely holiday destination, Scotland has a number of stunning destinations which make the perfect getaways all year round. Whether you are interested in a cultural city break, rugged Islands or picturesque scenery, Scotland has you covered.
Spring
Spring is a great time in Scotland to visit a city. Scotland's two largest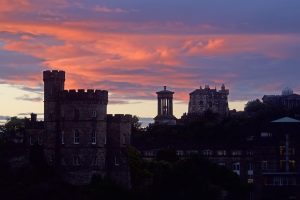 cities are Edinburgh and Glasgow. Although there may be less than 50 miles between them they are very different. As the capital city, Edinburgh is steeped in historic culture and is very beautiful and reminiscent of old Scotland. You can take a walk through the cobbled streets and independent stores of the old town, visit the famous Edinburgh castle, dungeons or walk the Royal Mile. Glasgow on the other hand, may not be the capital city but it is certainly the culture capital. Perhaps less in the way of tourist attractions and packed to the brim with art, shopping and some of the best pubs and restaurants. You can spend a day at Kelvingrove Art Gallery and unwind in one of the West End bars or take a trip to the Charles Rennie Mackintosh museum and find a quaint city centre café.
Summer
Summer months in Scotland are best spent by one of Scotland's picturesque lochs. Loch Lomond is a big attraction for tourists in the Summer. The Loch Lomond and Trossachs National Park provides a whole range of activities for all different tastes. Given its location in the West of Scotland it is ideally situated for hill walking, water sports, golfing, camping and plenty of day trips to the surrounding areas.
Autumn
Autumn is a time best spent in the Hebrides. The Hebrides are a large group of islands off the West coast of Scotland. They consist of the Inner and Outer Hebrides and within these islands you will fin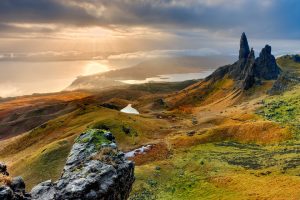 d small traditional fishing villages and the use of Gaelic is still widely spoken in many of these parts. The Inner Hebrides are home to islands including Skye, Islay, Jura and Mull which makes them the most popular choice amongst visitors. The Hebrides are a magical place in Scotland that once visited,
you will be definitely wanting to return. You can find traditional music being played in the local pubs, local crafts being made, eat the freshest seafood and hear the Gaelic language being spoken by the locals.
Winter
In the winter months there are over five ski resort destinations in Scotland you can visit. Some of these more remote than others you can make a real private getaway out of your trip. Cairngorm is the largest of these ski resorts, with 38 runs in total. The nearby town of Aviemore provides a quaint setting for your getaway where you can relax in the hot tub at your chalet after a day on the slopes. If you find yourself on a city break in Edinburgh during the winter and fancy a day skiing, Glenshee resort is only a 2- hour drive from the capital, meaning you can combine both city and skiing.